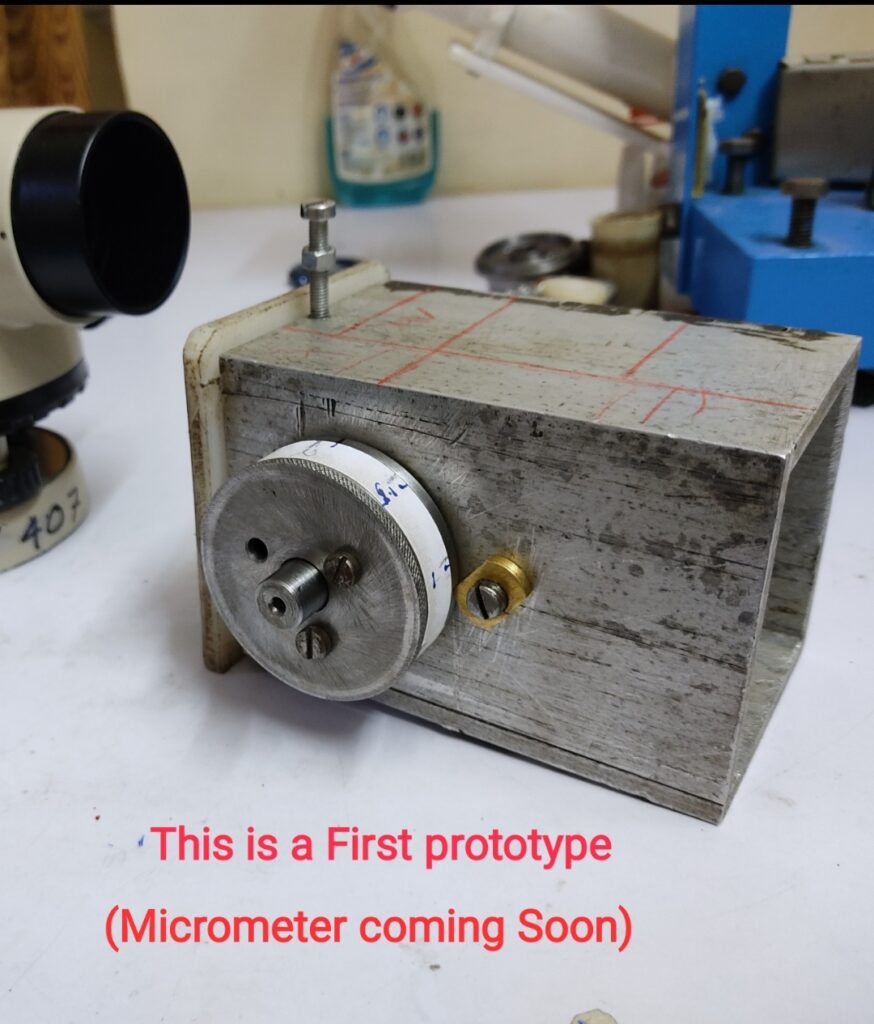 Automatic level Micrometer / Auto level Micrometer mounts on the Auto level . This system allows for staff / scale reading in increments of 0.002mm. It is a parallel plate Micrometer used in precision leveling. We design and manufacture Micrometers for any make & model of Automatic levels (in India) .
SPECIFICATION:
Least count:

Direct reading: 0.02mm
With vernier scale : 0.002mm

Maximum reading: 2mm up & 2mm down (Total- 4.00mm)
Body : Metal
Optics : Anti-reflective coated optics
Our Micrometers are complete indigenously made which allows us to make it very affordable. We use best quality materials to give very sturdy design at the same time providing light weight and strong device. ( Note: above image is a prototype , final product will be of ⅓ weight & elegant).
Customizable: we can design Optical Micrometers for any make & model of Auto level or for other instruments as per clients requirement. Micrometers for Leica , Nikon , Sokkia , Topcan , Foif Pantax , etc can be made .We can also change the maximum Micrometer travel if required. Accuracy will depends on the quality & accuracy of Automatic level.
Criteria for getting better accuracy with Auto level (Automatic level ) Micrometers
Use Auto levels from trusted brands for good results
Auto levels with greater magnification gives better results
Automatic levels with higher accuracy gives better results
We also make Optical Metric Micrometer for the following brands Auto levels :
Sokkia Auto levels : B Series – B20 / B30 / B40 / B30A / B40A
Leica Auto levels : NA2 / NAK2
Foif Automatic levels : DS Series – DSZ2 / DSZ3
Nikon Automatic levels : AS-2 Series / AE-7 Series
Pantax
Feel free to talk to us for more details & Buy Automatic level Micrometer in best price. R.C. MAURYA & CO has been continuously operating and growing for over 20 years, and offers experience and professionalism you can rely on. We're known and respected in the field of industrial metrology , Defence and Aerospace industries. You can trust us with your measuring requirements!
MORE SERVICES: