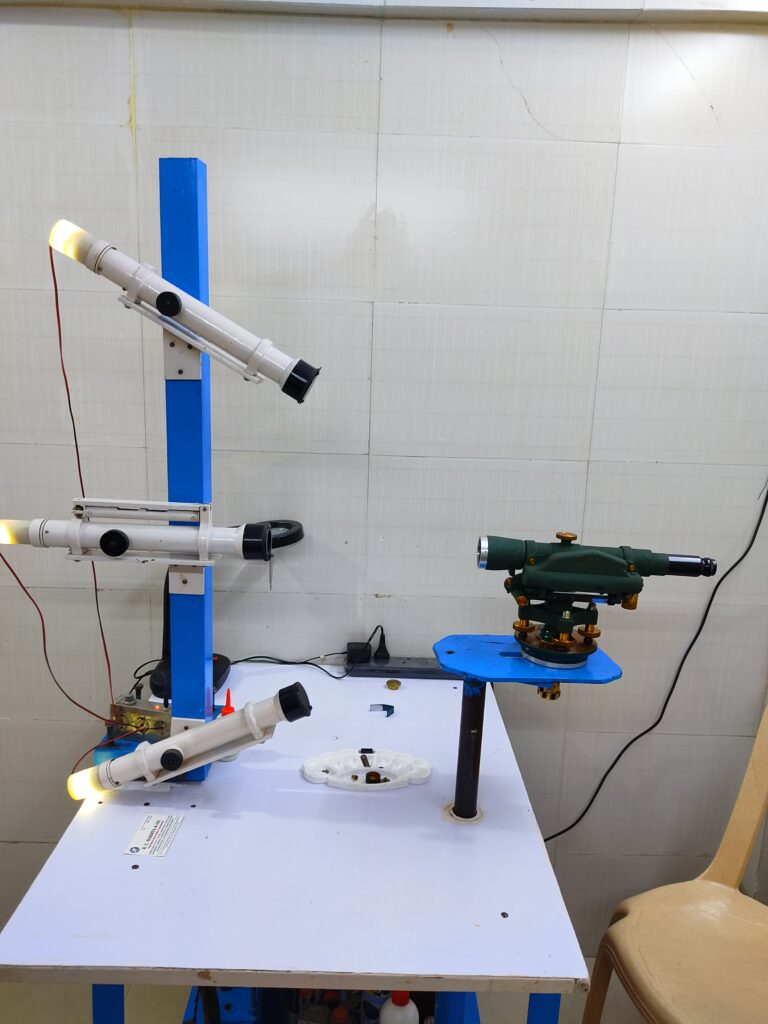 Complete servicing, Repair and Calibration of Paragon Level with NABL TRACEABILITY
R.C. MAURYA & CO (ISO 17025 : 2017 & ISO 9001 : 2015 Certified) offers calibration and repair services for optical measurement and Paragon level in India .( also known as Paragon sight Level )Our long history working with precision instrumentation has given us some unique repair and calibration capabilities. I have over 20 years of experience in large numbers of Precision optical / micro optics instruments and All type survey instruments servicing repair and Calibration. I have experience working with everything from dumpy Levels to theodolites, and from automatic levels to optical tooling. Our services are offered complete with NABL traceable certifications. Our clients include various indian defense and aerospace manufacturers, research and calibration laboratories, and civil and construction engineering firms like L&T , Walchandnagar industries, Mesuka Engineering, etc. These clients understand that periodic equipment calibration is critical for maintaining and verifying equipment accuracy.
We Provide Service, Repair and precise Calibration of Brunson Paragon level , K + E Paragon level .
All the instruments are Personally inspected, Dismantled, Realigned and Precisely Calibrated by Mr. R.C. MAURYA himself. which ensures that your valuable instruments are not going in inexperienced hand at any time.
JOB DETAILS ATTACHMENT :
Following job will be done on Paragon level
1) Complete dismantling of all mechanical movements, chemically cleaning of all optics of Telescope, overhauling, Lubricating, Resetting, adjusting the instrument into the required tolerance and testing
2) Optical Micrometre : Dismantling from mounts all optics of reading system, chemically cleaning, Refitting and Collimating on mounts, centering scale, adjusting parallax to coincidence with rotary drum.
3) Coincidence reading system of Telescope bubbles : dismantling, cleaning optics, resetting adjusting and centering.
4) Tilting drum: Dismantling, Cleaning and resetting backlash
5) Footscrews: Removing excess wear, Polishing, Lubricating, Removing play etc.
6) Collimation: Primary Calibration on Tri-telescopic Collimator.
7)Final field Calibration : long distance Field Calibration to ensure High accuracy in day to day usage which includes bubble centered, Horizontal Collimation, Vertical line coincidence. ( NABL traceability)
R.C. MAURYA & CO has been continuously operating and growing for over 20 years, and offers experience and professionalism you can rely on. We're known and respected in the field of industrial metrology , Defence and Aerospace industries and can repair and calibrate equipment from just about Any manufacturer. You can trust us with your repair and calibration requirements!
For more related articles refer Wikipedia.
https://en.m.wikipedia.org/wiki/Level_(instrument)
Tags :
Paragon level calibration
Paragon level servicing
Brunson Paragon sight level
we provide complete Servicing , Repair and Calibration of Brunson Paragon Sight Level
K + E paragon sight level / K and E Paragon sight level
we provide complete Servicing , Repair and Calibration of K + E / K and E Paragon Sight Level